Getting Rid of an Old HVAC Unit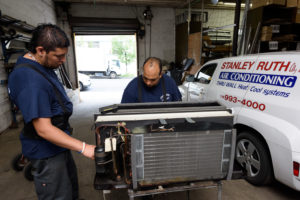 All good things must come to an end and sadly, HVAC systems are no exception. There are a number of reasons why you'll eventually have to get rid of your through-the-wall air conditioning units. Maybe you're an environmentally conscious consumer upgrading to a system that emits fewer harmful gasses. Perhaps you've crunched the numbers and a new energy efficient model will actually save you money in the longterm. Most commonly, however, your HVAC unit is just fried.
Every year, thousands of New Yorkers ask themselves how to get rid of these hulking masses of metal, plastic and freon. And according to New York state law, you can't just toss it out on the curb on trash day.
This post will guide you through the dos and don'ts of HVAC disposal, what you can and can't do and what generally makes the most sense for residents of a densely populated urban center, like Manhattan.
Why is it Illegal to Throw Out an HVAC Unit?
Why would throwing out your HVAC unit be illegal? It boils down to refrigerants–the liquids and gasses in the air conditioning unit that create cold air. Chances are your system pumps one of three kinds of refrigerants: either chlorofluorocarbons (CFCs), hydrochlorofluorocarbons (HCFCs) or hydrofluorocarbons (HFCs). CFCs and HCFCs have a negative effect on the ozone layer, documented scientific studies far and wide. While HFCs don't eat away at the ozone layer, they're not exactly good for the environment either.
How Much Does it Cost to Have Freon Removed?
When there's a will, there's a way. And when there's expertise, there's a price tag. Due to the specialized nature of handling freon, it'll typically cost between thirty and fifty dollars per unit to have it removed.
Don't take any risks. Make sure only seasoned professionals work with the refrigerants in your unit. In fact, an important part of becoming an HVAC technician is getting a certification from the Environmental Protection Agency (EPA) documenting knowledge of how to work with these types of refrigerants responsibly.
So how can you get rid of it?
Can I Scrap my Old A/C Unit?
The short answer is yes. But what you really should be asking is, "why would I want to?" First you have to remove the HVAC unit from your wall. Then you have to lug its 100-plus pounds down to street level. By the time you've carefully loaded it into the car, you're already exhausted. After sitting in traffic for an hour and a half, you'll finally arrive at the scrap yard in New Jersey, where they'll offer you the rousing total of $4-6 for all that work.
If you're feeling especially ambitious, disassembling the unit is another option. Divide it up into plastic, copper and metal parts and scrap yards are likely to double their original offering, putting you at a $12-profit. For residents of Manhattan, it's just not practical or cost efficient.
How Do I Dispose of My Air Conditioner?
In New York City, there are a few responsible options for homeowners looking to recycle their old HVAC units:
This is labor-intensive process. The city requires your air conditioning unit to be placed on the curb with its back facing the street. City inspectors come at a designated time and determine whether or not it is safe to be picked up by city recycling crews. If it is deemed safe, they'll slap a yellow sticker on it and it will be removed on your street's next recycling day. If the sanitation department does not consider your HVAC unit safe, you're on the hook for figuring out what to do with it next.
Option 2: Hire a certified AC recycling vendor
Over the decades, Stanley Ruth as teamed up with experienced vendors who responsibly dispose of old HVAC systems. These companies can come to your home and safely removed your unit. Once it's back at the warehouse they'll siphon off the remaining refrigerants and either repackage and sell them on the open market–or they burn the chemicals off at an extremely high temperature so they cannot escape into the atmosphere.
Option 3: Donate your HVAC
Just because you're getting rid of an HVAC unit doesn't mean its life is over. Maybe your system still has a year or two of reliable functionality. Donate it to a person or organization in need by transporting it to a local community center, school or even the home of an elderly family member or acquaintance. Donating your HVAC system goes much further than you'd think, enhancing your community's comfort as a whole.
Option 4: Call Stanley Ruth
Stanley Ruth is one of the few companies in New York willing to buy back old air conditioning units. We'll come to your apartment or home and remove the unit with the same white-glove service we used to install it. Back at our warehouse in the Bronx, we'll disassemble the system and dispose of it in such a way that is safe and in compliance with the city's strict regulations.
Connect with us today on LinkedIn!