Becoming an HVAC Technician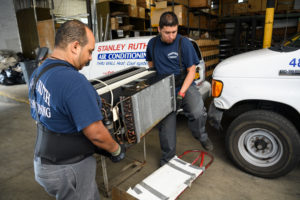 Working in the HVAC service industry requires a highly specialized set of skills that takes years–and sometimes decades–to master. It demands an in-depth knowledge of mechanics and construction to ensure each installation and repair are completed with the highest level of quality. It demands the ability to communicate clearly and patiently, so clients remain informed and happy. Few other professions in today's marketplace require the same balance of technical and people skills. It's no wonder why senior HVAC technicians are in constant demand and can make a very healthy income (especially during the summer months).
There are a number of ways to rise through the ranks of the HVAC industry. Whether you start off in sales or the warehouse, the sky truly is the limit in an industry that's expected to be one of the fastest growing over the next ten years. In fact, many of Stanley Ruth's oldest employees started off as summer assistants and worked their way up into influential roles within the company.
Let's take a look at some of the opportunities that await those interested in a career as an HVAC technician.
What is an HVAC Technician?
HVAC technicians are the backbone of the heating and cooling industry. Whether it's routine preventative maintenance or a complicated repair, HVAC Technicians are the ones with their boots on the ground, applying their expertise, diagnosing problems and coming up with solutions.
What are the Duties of an HVAC Technician?
Typically, five years of field work are required to earn the HVAC technician job title. A working knowledge of the industry is necessary, which includes basic wiring, insulation design and architectural blueprints. A thorough understanding of air conditioning hardware and the specialized tools used exclusively in HVAC repair are absolutely essential parts of being a trustworthy technician. Techs are usually paired-up in two-person teams because with ten years of combined experience, there isn't much they wouldn't have previously come across.
The importance of face-to-face interactions with customers is often overlooked, but it cannot be overstated. A customer's trust has to be earned not just through quality work, but with clear and honest communication. The intricacies of heating and cooling systems can sound like a foreign language and helping a client understand why certain repairs are needed can help put them at ease.
How do you become an HVAC Technician?
There are a number of different avenues you can take to become an HVAC technician. Many opt for a vocational school to receive the basic training required to get on track to become an HVAC technician. Union County Vocational School in New Jersey and Apex Technical School in Queens are two examples with stellar reputations in the greater New York City area. These programs can provide a major boost for anyone looking to land an entry level job at a reputable HVAC company and can be completed within six months.
Another route you can take is the HVAC apprenticeship. This is a viable alternative for those who might not have the money to invest in vocational school. Apprentice techs shadow a senior a mechanic or engineer for 1-2 years while they learn the ropes of installation and repair. It's a hands-on educational trial period designed to build a foundation in the basics of construction and air conditioning hardware. The training is intense, but the right candidate who is willing and eager to learn can come in with zero HVAC experience and within a couple years be a seasoned professional. The best part? You actually get paid to learn.
Depending on where you work, various certifications may be required before formally becoming an HVAC Technician. The most common certification comes from the U.S. Environmental Protection Agency (EPA) and acts as proof that an HVAC Tech knows how to handle refrigerants properly. To earn the certification, you must pass a written test.
What is the Job Outlook for HVAC Technicians?
Working in HVAC is likely to be one of the most reliable fields of work over the next few years. According to the US Bureau of Labor Statistics, demand for HVAC technicians is expected to grow by 15% from 2016-2026–over twice the national average. The positive outlook is attached to two factors:
Expected acceleration of home construction, which will require HVAC service and installation
Environmental concerns are likely to propel or require homeowners to upgrade their existing systems so they require less energy and use more environmentally friendly materials
Stanley Ruth encourages anyone who might be interested to seriously consider becoming an HVAC Technician. It's a fulfilling profession for anyone with a passion for working with their hands. The work isn't for everyone, but if you want to develop a specialized set of skills and a reliable market for the foreseeable future it may be worth pursuing.
Take a look at the Jobs section of our website. Even if we're not hiring, feel free to submit a resume that we'll keep on file.